Products tagged with 'ncomputing'
Ethernet virtual desktop with vSpace Software. The L-series is a game-changing virtual desktop client device. Its sleek low-power design and form factor is easily mounted on a monitor or secured to a desk. Powered by NComputing's Numo System on a Chip (SoC), the L-series client device costs less than any other thin- or zero-client options and is a quarter of the cost of typical desktop PCs. With the ability to connect up to 100 user sessions to a single NComputing vSpace server, the combination provides a simple and powerful desktop virtualization solution at one-third the price of traditional alternatives.
500-0096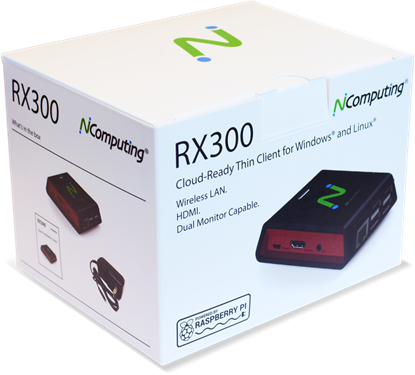 Thin Client Terminal with inbuilt WiFi & vSpace SW + AMP Subscription is a cloud-ready thin client designed and optimized specifically for NComputing's award-winning vSpace Pro desktop virtualizations, NComputing VERDE VDI and Microsoft Remote Desktop Services. RX300 features full-screen, full-motion HD multimedia playback with NComputing vCAST Streaming and support for Microsoft RemoteFX, WiFi connectivity, built-in transparent USB redirection with broad peripheral support, and optional access to Linux Raspbian OS managed by the IT admin. The RX300 delivers a rich PC-like experience and provides a simple-to-deploy, centrally managed, high-performance virtual desktop, perfect for use in SMB and education.
500-0171